COME AND FILL YOUR HEART WITH THE SIGHTS AND SOUNDS OF THE SEASON!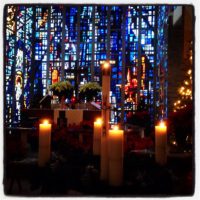 November 28: Watch
December 5: Prepare
December 12: Rejoice
December 19: Behold
December 24: Christmas Eve
December 25: Christmas Day
December 26: First Sunday of Christmas
January 2: Second Sunday of Christmas
January 9: First Sunday of Epiphany
Lighting of the Advent Candles
NOVEMBER 28, DECEMBER 5, DECEMBER 12, DECEMBER 19
Each week during worship, we light advent candles in anticipation of Christ's birth. Join us during these weeks of expectation to prepare for the birth of Jesus.
Advent Activities
GIVE TO THE ANGEL TREE, NOVEMBER 24 – DECEMBER 12
Choose a virtual ornament and then donate gift cards for blankets, meals and gifts for children and families in need.
PREPARE YOUR HEART THROUGH AN ADVENT DEVOTIONAL
Download your free Advent devotional, "Advent Unbound: A pilgrimage through Advent based on the Poetry Unbound podcast" – a perfect way to prepare for the hope, peace, joy, and love of Christmas day.
CALM YOUR SOUL AT HOLDEN EVENING PRAYER SERVICES, DECEMBER 1, 8 & 15 AT 7 P.M.
Join us for midweek Holden Evening Prayer worship services to fill your heart with the sights and sounds of hope this Advent season! Written in 1985-1986 while Marty Haugen was the musician-in-residence at Holden Village, a Lutheran retreat center in Washington State, this lovely setting of vespers follows the traditional form while using contemporary and inclusive language.
BEHOLD "LOVE'S PURE LIGHT" AT THE DRIVE-THRU ADVENT/CHRISTMAS CELEBRATION, DECEMBER 11 FROM 6-8 P.M.
Gethsemane youth and Gethsemane Lutheran Children's Ministry invite you to join us for "Love's Pure Light," this year's Drive-Thru Advent/Christmas Light Celebration.
Christmas Eve Services – December 24 at 4 p.m., 7 p.m., 10 p.m.
FAMILY WORSHIP SERVICE AT 4 P.M.
Join us for a Family Christmas Eve carol sing and Holy Communion service.
WORSHIP WITH CANDLELIGHT, LESSONS, AND CAROLS AT 7 P.M. AND 10 P.M.
A traditional service of candlelight, Santa Lucia and Christmas apples. Listen to the familiar words of scripture that foretell and proclaim the birth of Jesus. Sing the carols that help us tell that story. All are welcome!
Christmas Day Service – Saturday, December 25 at 9 a.m.
CHRISTMAS DAY NATIVITY OF OUR LORD AT 9 A.M.
Come join in the Eucharist, singing Christmas Carols, and hear the Christmas Story.