PASTOR KARL A. GRONBERG
People of Gethsemane : Grace, Peace and love be yours from the God of creation, redemption, sanctification.
"I lift up my eyes to the mountains-from where will my help come? My help comes from the Lord, who made heaven and earth… The Lord will keep your going out and your coming from this time on and forevermore " Psalm 121:1&8
I love the mountains! I have played in the snow, enjoyed skiing, riding the ski lifts, driving over the mountains in snow storms—all of those experiences remain with me as beautiful memories .  I remember the first trips we took with Gethsemane youth beginning in 1972 and how this wonderful tradition of pilgrimage continues today.   And thanks be to the God of the mountains/the God of all life for those youth of the future who will be nurtured into the "assurance of God's protection" (that is what Psalm 121 is all about) by the community where they will be baptized, educated, confirmed growing into the fullness of grace.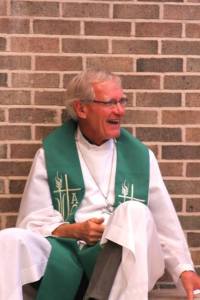 My bride Sharon and I have celebrated 50 years of married life. God has blessed us with children, grandchildren, extended family, friends – each person having added blessings to us. Many of you in the Gethsemane community have watched Kristen, David, Erik, Rhia, Joel grow into adulthood and those with whom they share the gift of life. Jiwoh, Malte, Umid-young men from others places in the world continue to be gifts of love to our family. We thank God for them and you; their devotion-your devotion to the God of the mountains-the God of life.
We gather today on "a mountaintop" as a historic faith community in Austin , Texas giving praise to God. We commit ourselves to sharing  the ancient faith of those having gone before us blessing us with the confidence faith; not knowing the future but assured by the promise of God.
Respectfully submitted,
Pastor Karl A. Grönberg
REV. DR. SUSAN M. SCHNELLE
"The Lord bless you and keep you; the Lord make his face to shine upon you and be gracious to you; the Lord lift up his countenance upon you, and give you peace." Numbers 6:24
In a very real way the congregation is surrounded by God's love and grace.  In our baptism we have been called together as a community of faith to share God's love and grace. Even as we are instruments of grace as we serve others, we are also recipients. I am grateful to God for this community of faith and all the generations that are represented here. I have witnessed your faithfulness as you have given your time, talent and treasure in service to others. I am grateful to you for your continued support of the ministry opportunities of our community. You not only speak words of God's blessing, you have become God's blessing here and throughout the world through the ministries that we support. You have made a difference in the lives of so many people. Let us continue the work of ministry together as
we give thanks and praise to God, for we are called by grace, led by faith, welcoming all to share God's love.
Peace,
Pastor Susan M. Schnelle